Pierce Heating & Air Inc offers family owned and operated HVAC services to Louisville, KY and beyond. Over the past 40 years, your neighbors, families and friends have relied on our factory trained technicians for honest, reliable, and affordable heating and air conditioning service.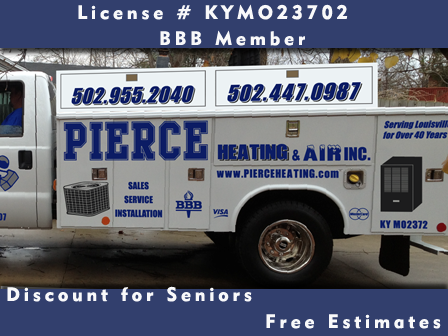 Learn More About Pierce Heating & Air Inc:
Heating Services - Air purifier, gas furnaces, humidifier and dehumidifier, rooftop heater, UV lights, and whole house filter media.
Air Conditioning Services - Air conditioners, air filters, cooling system design, central air systems and rooftop air conditioners.



Contact Pierce Heating & Air Inc today at 502-447-0987 or 502-955-2040, or browse the website for more information about our products and services.